Sometimes it can be a challenge to engage children in conversation. One of the ways I have done so is to use what I call conversational materials. Generally, I look to these products when it is time for the child to integrate what she has learned into conversation. These materials encourage children to verbally interact with me. Now there are apps that can be used to do the same. I have 14 apps that I have categorized as conversation apps. Rather than blog about them all at once, I will discuss two in this post and two at a time in subsequent posts.

What's Different

: These first apps ask the child to identify which picture is different. These apps can also be used for same and different concept learning.Four pictures are presented at the bottom of the screen. One of them is different from the rest. The child moves the one that is different into a box on the right side of the screen. When using this app, I would ask the child to talk about why the picture is different from the other three. One could extend the task and talk about why the other three pictures are the same.
Ages: Levels 1—ages 3-5, Level 3—ages 4-6
Ratings: ++
Developer website: myfirstapp.com
Cost: Lite version has eight different series and is free. A set of 12 for each level can be purchased for $1.99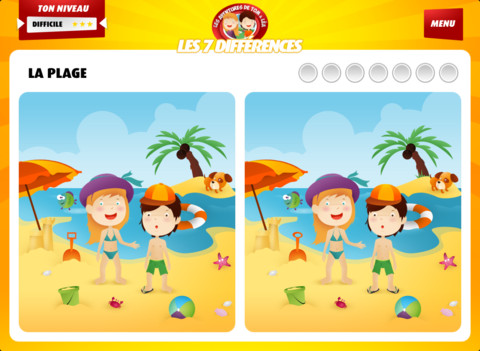 Spot the Differences: I like this app a lot.  I have always liked the challenge of finding what is different in scenes. Wasn't it the Highlight magazine in doctors' offices that had us finding hidden objects and scene differences to distract us from the sound of the drill or other children crying when they got their shots?
In this app, two seemingly identical scenes appear side-by-side on the screen. Differences can be found when one compares the details in the scenes. When one finds a difference in each attractively presented cartoon scene, one taps on the scene and a yellow checkmark appears accompanied by a ding. If one taps and there is no difference, a red X appears accompanied by a buzz. There are seven differences in each scene. Explaining what is different between the scene's characters and objects is the conversational task. There are easy, medium and difficult levels for each scene. I tried the difficult level and found that finding some of the differences was challenging.  Another way to use this app is to ask the child to describe the scenes and then talk about what they would do if they were there.

This app can be set to any one of the following languages: English, French, Portugese, and Italian.
Ages: Easy level—ages 4-6, medium level—ages 4-7, difficult level—ages 7+
Ratings: ++++
Developer website: paddix.com
Cost: Lite version has two different scenes and is free. A complete set of 15 can be purchased for $1.99.